King Crab Legs & Claws
Now Only
Starting at

$480.00

ea.
Reg
$480.00
The Crazy Fish International vision is to focus on producing and distributing exceptionally fresh and frozen seafood to restaurants and home consumers in the Southeastern United States. We insist on only the freshest and healthiest protein available.
Colossal King of the crabs! Found in cold Northern Pacific Sea. Unmatched flavor, quality, and texture. It's the most sought-after species of crab and popular with people who love seafood.
Perfect for your next dinner party, family gathering, or meal with friends. King Crab Legs and Claws makes for delicious appetizer or a stunning entrée that everyone will enjoy.
Did we mention King Crab meat is naturally lean, low in calories and bursting with one-of-a kind flavor? Give your guests something to talk about!
Origin: North pacific Sea.
Weight: 5 LB Box.
Description: Vacuum Sealed.
Packaging: 5-7 pieces per box.
Gift Box: Delivered in a classic black gift box.
Condition: Product is frozen before shipping to lock in flavor and will arrive frozen or partially thawed.
Classic King Crab (Steamed served with melted butter)
Prep Time: 5 mins   Cook Time: 8 mins
4-5 pounds Alaskan King Crab legs and claws
1 stick of butter
Lemon wedges for garnish
DIRECTIONS:
1 Melt butter: Melt the butter in a small pan and keep warm on its lowest setting.
2. Steam the crab legs: Set a steamer tray inside a large pot and pour enough water inside to steam the crab. Remember, you are only reheating the crab, so you will only need about an inch of water, tops. Bring this to a boil before laying the crab legs on the steamer. Cover the pot and steam for 5 minutes.
3 Make cuts into crab shells: Remove the crab legs and use kitchen shears to cut the shells. You can either totally remove the meat from the shell or just get each one started for your guests. Serve with the melted butter.
NOTE: King Crab Legs & Claws are pre-cooked on-board and are ready to eat when thawed.  Don't over-cook this delicate meat.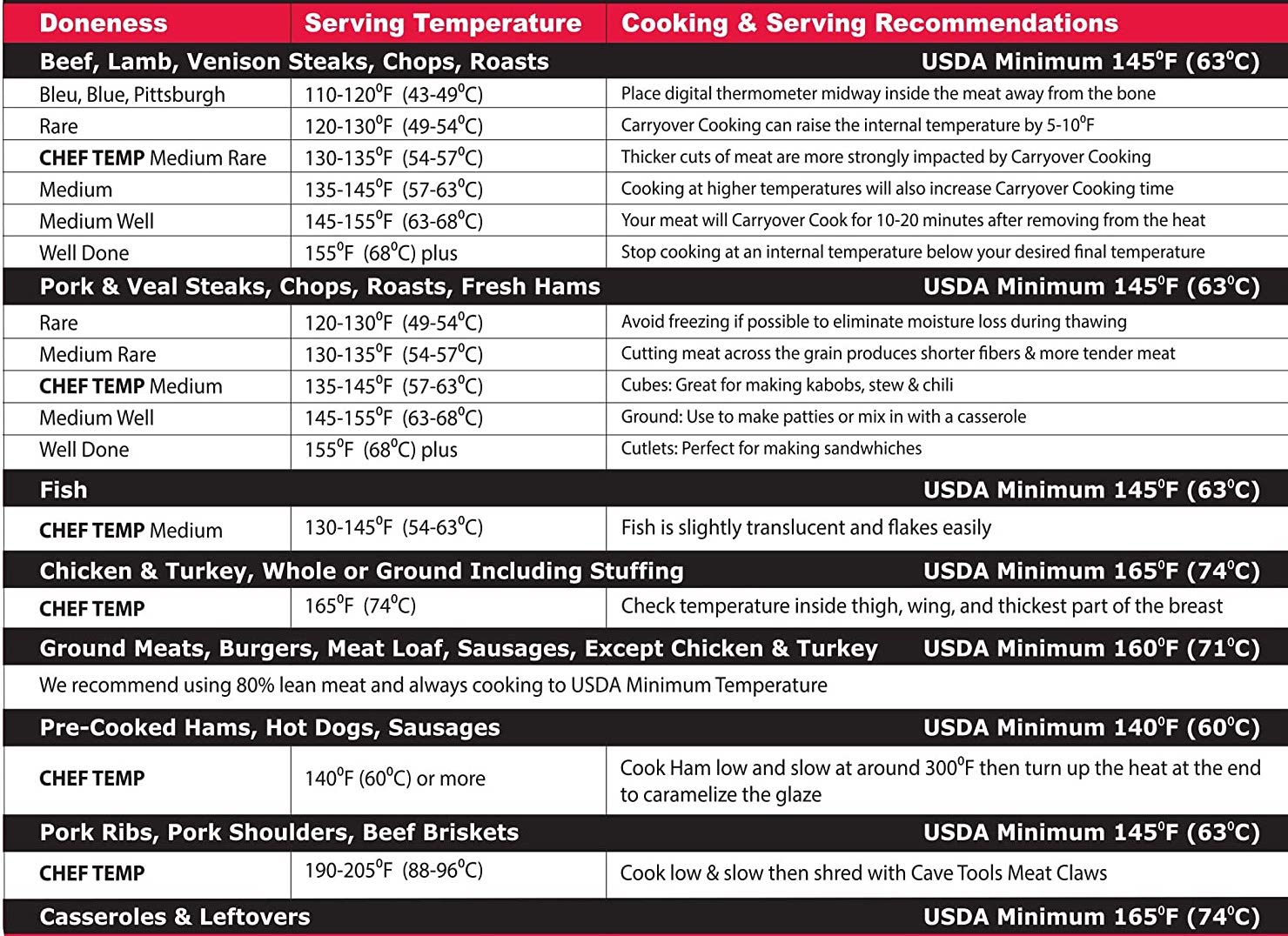 Following proper cooking temperatures are suggested
We found other products you might like!