A Perfect Steak, Every Time
Since 1968, quality has been our passion and our promise to our family of customers.
Our abundant resources allow us to provide you with a vast selection of the highest quality meats available.
Every steak, chop, and piece of seafood that Grand Western Steaks delivers comes with a 100% Satisfaction Guarantee, and 100% Money Back Policy.
Our goal is to satisfy our customers in the best possible way by offering them excellent customer service, and top-quality steaks only found at the best steakhouses.
We guarantee the quality and grade of our meats. Our Prime beef and other selections are of the highest quality. When you order beef from us, you will only get genuine wet aged minimum 21 days.
We guarantee that your meats will be cut fresh to order and freeze before shipping to lock in the flavor and maintain the integrity of the products during shipping. In-store orders are going to be kept in a fresh condition for you to Pick-up.
We guarantee that your product will arrive in wholesome condition. Your meat will arrive from Grand Western Steaks either frozen or partially frozen.
We guarantee that you will get what you order. We weigh our meat on electronic digital scales that are carefully monitored for accuracy so you always receive the weight you ordered or more. In addition, we work hard to ensure your order is selected and shipped correctly.
At Grand Western Steaks, Quality Always Comes First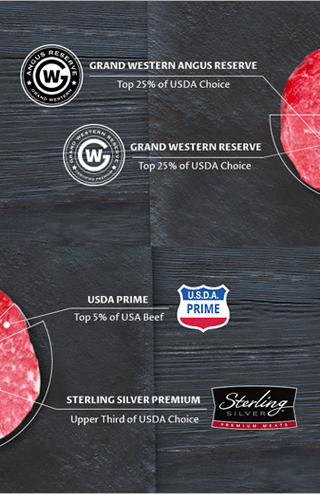 USDA Prime
USDA Prime Graded Steak is delightfully tender and juicy with a buttery flavor. Of all the beef produced in the US, less than 4% is certified as USDA Prime. and is generally sold in restaurants and hotels. Prime roasts and steaks are excellent for dry-heat cooking such as broiling, roasting or grilling. USDA Prime is the superior grade with amazing tenderness, juiciness, flavor and fine texture. It has the highest degree of fat marbling and is derived from the younger beef.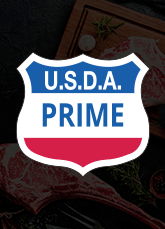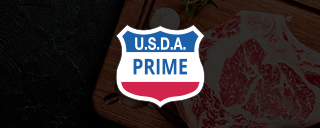 Grand Western Reserve
Grand Western Reserve is Grand Western's Premium Signature Program. Less than 25% of all Top USDA Choice beef meet the selection criteria of Certified Premium Beef.Hand-selected for optimal quality. The cuts in this collection feature an incredible marbling, a great texture and a rich flavor that you won't find anywhere else.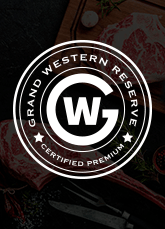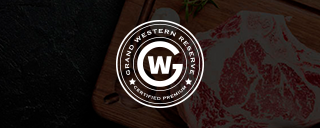 Grand Western Angus Reserve
Grand Western Reserve is Grand Western's Premium Angus Signature Program. The first requirement that cattle has to meet for this program is to be 100% angus. USDA graders inspect black-hided cattle (typical of the Angus breed) and give it a grade - incorporating the attributes of USDA Prime and the versatility of the top tier of USDA Choice beef. This top-quality Angus beef is evaluated for marbling, size and uniformity. If it's good enough to make the cut, then it earns the distinctive Certified Angus Beef brand label.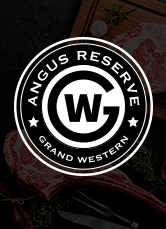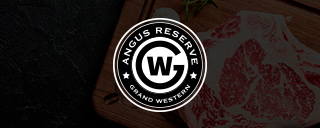 Grand Western Wagyu
Wagyu cattle meat is well known worldwide for its marbling characteristics and naturally enhanced flavor, tenderness, and juiciness. Creating the finest steak eating experience. Kobe is reserved exclusively to describe Wagyu cattle raised in the Kobe region of Japan. Any Wagyu cattle raised outside of Kobe must go by the names Wagyu or Kobe-style. Exquisite and luxurious, Grand Western Wagyu is a superior eating experience. Wagyu white lattice marbling creates a juiciness and tenderness that sophisticated chefs demand. Unexpectedly, the fat makeup of Wagyu is primarily unsaturated fat; often-time making Wagyu cuts healthier than many USDA Prime beef products. Grand Western Steaks Wagyu beef is a top-quality product that is rich in flavor and amazingly juicy.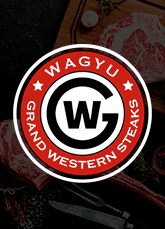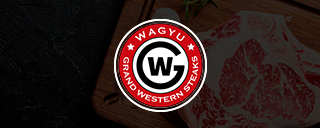 Sterling Silver Premium Meats
Sterling Silver Premium Beef is carefully sourced from the North American Great Plains and hand-selected for optimal quality. The results are unsurpassed cuts of beef that provide exceptional flavor, tenderness and juiciness. Only the cattle with the highest standards are selected for Sterling Silver Premium Steaks. Inferior raw materials are filtered and do not make it to this category.