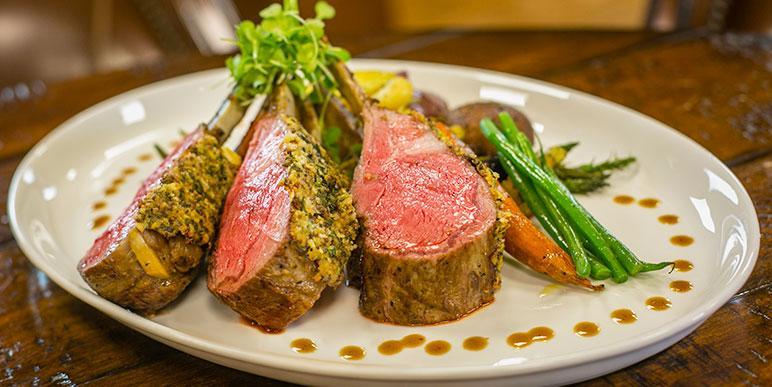 Easiest Rack of Lamb Recipe: 3 Flavorful Tips
Favorable, tender, and mouthwatering, a well-sourced and well-cooked rack of lamb is an event meal the whole family can enjoy. Lamb has more flavor than traditional beef roasts, and a roasted bone-in rack has a more exciting, dramatic look as well. Cooks unfamiliar with preparing lamb might be intimidated when faced with this tasty, marbled meat, but with a few simple steps, even a novice chef can turn a rack of lamb into a delicious and impressive meal. Just remember three easy tips: Cook to the right temperature, season correctly, and let the meat rest after it is cooked.

There are many ways to turn a whole rack of lamb into a meal that will be the highlight of your family's week. Lamb can be grilled, braised, or broiled, to excellent results, but one of the best ways to prepare this meat is also one of the most basic: a roast. Middle-eastern flavors are traditionally associated with lamb, and it's easy to see why with this recipe. Smoky cumin, sweet onions, and tart balsamic vinegar combine with the rich taste of the lamb and hearty braised eggplant to produce a rustic, delicious meal that your family will love.

Cumin Seed Scented Domestic Roast Rack of Lamb with Mediterranean Braised Kalamata Eggplant Relish

For the Rack of Lamb
1 ea. Domestic Lamb Rack
TT Kosher Salt
TT, Fresh Ground Black Pepper
2 Tbsp. Olive Oil Blend
1 Tbsp. Whole Cumin Seeds

The lamb will be cooked in the oven, set to 375 degrees. Start the oven preheating while you prepare the rack, so it will be at temperature when you are ready to put it in. The next step is to infuse the meat with flavor, using a simple mix of salt, pepper, and smoky cumin seeds along with olive oil. Rubbing the meat with the salt and pepper first, before brushing with the olive oil will help maximize the flavor. After the oil has been applied, sprinkle with the cumin seeds and gently press them into the meat. Once the meat and the oven are ready, place the rack—meat side down—in an oiled cast iron pan and put it in the oven. Cook till the rack is a nice medium rare, which translates to a 130-degree internal temperature.

For the Mediterranean Balsamic Braised Eggplant Kalamata Relish
4 oz. Extra Virgin Olive Oil
1 cp. Spanish onion, small diced
2 ea. Medium Eggplant, peeled, medium diced
1 Tbsp. Fresh Garlic, minced
8 oz. All Purpose Ground Tomato
4 oz. Kalamata Olives
8 oz. Balsamic Vinegar
1 Tbsp. Fresh Oregano, chopped
T.T. Whole Black Peppercorns, cracked
T.T. Kosher Salt

A simply prepared, yet complexly flavored, eggplant Kalamata complements the flavors of the roast nicely. To prepare, first dice the onion and sauté it in olive oil until the pieces are translucent. Next, add the minced garlic and the eggplant. Continue sautéing until the eggplant is also translucent. Once that happens, toss in the rest of the ingredients and cover the saucepan, reducing heat to low. Let this flavorful mix simmer into you have a relish-like consistency.

Once the rack and the Kalamata are both finished cooking, it's time to assemble the dish. Spread the warm, aromatic relish onto a serving plate, and then slice the rack between the bones—after letting it rest for about 8 to 10 minutes—and arrange over the Kalamata. Finally, serve and wow your family or guests.

For the best meal, it is important to start with the best ingredients. Our domestic lamb is raised in Colorado and fed according to the highest standards. Because of this, you and your family can be assured you are getting the best and most consistent product available. Purchase one of our great racks of lamb today, and wow your family with a middle-eastern inspired feast.