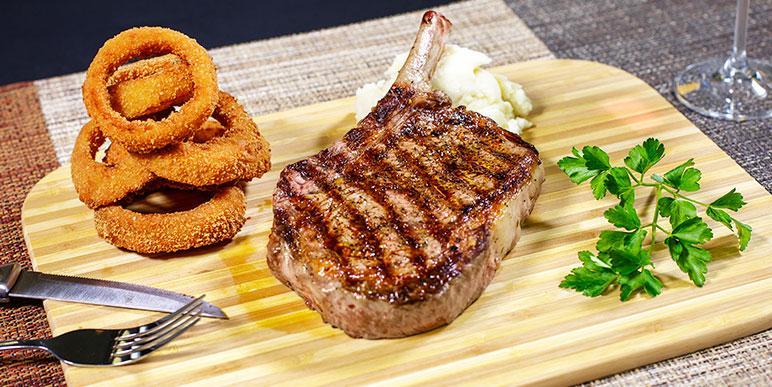 Out-of-This-World Bone-In Ribeye Recipe
Out-of-This-World Bone-In Ribeye Recipe
When you plan a sit-down dinner or a family get-together, you want a rich, hearty entree that will be the topic of conversation for weeks to come. Few dishes are more beloved than the classic ribeye steak, with tender meat that peels right off the bone. And with a spicy cocoa-and-espresso rub, your steaks will have a sharp, tangy flavor that sets this dish aside from the traditional steak dinner. The rich marbling and sizzling steak makes this a meal that your guests won't soon forget.

Whether you're an experienced chef or a beginner cook, preparing a hearty steak dinner can be a little intimidating. Fortunately, this simple recipe can be followed by just about anyone, making it easy to prepare for your next big get-together. And better yet, most of the ingredients are common spices that can be found in your own pantry. Whip up a batch of these steaks for your next sit-down dinner--we're confident that your guests will appreciate it.
Ingredients:
4 Grand Western Reserve 12 oz. Bone in Rib Eye Steaks
1/4 cup Ground Espresso Coffee, ground
1/4 cup Ancho Chili Powder
1 Tbsp. Cocoa Powder
2 Tbsp. Spanish Paprika
1 Tbsp. Dark Brown Sugar
1 Tbsp. Dry Mustard
1 Tbsp. Cumin Powder
1 Tbsp. Garlic Powder
2 tsp. Ground Ginger
1 Tbsp. Dry Oregano
1 Tbsp. Kosher Sea Salt
1 Tbsp. Ground Black Pepper
Directions:

1. Mix all the dry ingredients together in a bowl.
2. Rub 2-3 tbsp. of the coffee rub on the top and bottom surface of the steaks.
3. Brush the steaks with olive oil, then let sit at room temperature for 10-15 minutes.
4. Place steaks in a hot cast iron pan and sear until golden brown. Turn steaks over and cook to desired doneness. (130° internal temperature recommended for medium rare.)
5. Let rest 5 minutes before serving.
Looking for High-Quality Ribeye Steaks?

If you're looking for the perfect source for delicious, high-quality steaks, Grand Western offers premium cuts of meat that falls within the top 25% of all USDA choice beef. Our expert craftsmen hand-select every cut of meat, ensuring that you're getting some of the best cuts in the industry. In other words, the taste, quality, and versatility of our steaks is virtually unparalleled. Try our premium steaks today, and see how quickly they become a favorite in your household.